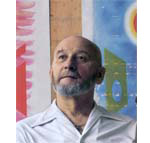 Anton Cetín was born in Bojana, Croatia, in 1936. From 1954 to 1959 he attended the School of Applied Arts, Department of Painting, in Zagreb where he graduated in the class of Prof. Ivan Šebalj. From 1959 to 1964 he studied printmaking at the Academy of Fine Arts in Zagreb where he graduated in the class of Prof. Marijan Detoni, in 1964. While attending both the School and the Academy he worked as an illustrator for various publishing houses in Zagreb.
From 1966 to 1968 he lived and worked in Paris, France as a painter and printmaker, and as an illustrator for J. M. Rabec and the Publishing House Larousse (Planètes et Satellites : mondes de l'espace). In 1967 the image of Eve was born in Paris.
Since 1968 he has been living and working in Toronto, Canada as an independent artist. He has held 160 one-man exhibitions and participated in more than 200 group exhibitions world-wide.
In 1975 he published his first folio of prints Eve and the Moon; in 1987, his drawings The Ominous Birds were published with Vinko Grubišić's poems Bitarion; and in 1988, he published the folio of prints Amerika Croatan America, with a poem by Croatian writer Stjepan Šešelj.
A deluxe monograph about the life and work of Anton Cetín, with a chronological survey from 1955 to 1986, was published in 1986. The text was written by David Burnett of Toronto. The same year he held his first major exhibition in his homeland, at the Museum of Art and Craft, in Zagreb.
2001 Círculo del arte in Barcelona, Spain, published two editions of his lithographs.
Several documentary films about Cetín's life and work were produced.
A new monograph about Cetín's life and work, with a chronological survey from 1951 to 2004, was published in Zagreb, in 2004. The text was written by Branka Hlevnjak of Zagreb.
He has received several awards and honours for his work. Canadian Croatian Art Association chose him as "Artist of the Year" for 1986. In 1995, he received two decorations from the Government of Croatia: The Order of Croatian Danica (Morning Star) with the image of Marko Marulić for special merits in culture and the Order of Croatian Interlace for outstanding contribution to the progress and reputation of the Republic of Croatia and the well-being of its citizens. In 2001 in Zagreb, Mare nostrum Croaticum awarded him a plaque and acknowledgement in gratitude for exceptional contribution in the field of arts and culture.
In 2001, in the city of Čazma, Croatia, the Gallery Anton Cetín was opened. The Gallery holds a permanent exhibit of his works.
A monograph EVE 1967-2017 was published in Zagreb, in 2017. The text was written by Ivanka Reberski of Zagreb.
His works are found in museums, galleries and private collections in many countries of the world.